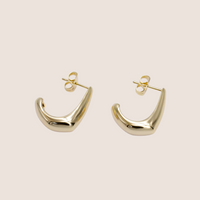 A pair of L-shaped hoops that you can easily stack.

Gold filled hoops
20 x 15mm
Sold as a pair
Gold-filled jewelry consists of a base metal, such as brass or copper, and a thick layer of gold – it's legally required to contain at least 5% or 1/20th of the jewelry's total weight.
All of our jewelry is gold-filled, and it's our favorite for many reasons. Gold-filled jewelry contains 100x more gold than gold plated, which means it's more durable and cost-efficient. With proper care and storage, you can wear your pieces every day and they'll last you forever. It's also great for those with sensitive skin, as the layer of gold is so thick you won't have to worry about it wearing off and exposing your skin to the base metal.
Gold-filled is of higher quality than gold plated, with similar properties to solid gold – without the high price tag! Gold-filled jewelry is perfect for those wanting to step up their jewelry game without breaking the bank.
Please measure accordingly for all of our pieces before ordering!
The easiest way to measure for necklaces, bracelets, and anklets, is to take a measuring tape and measure the circumference. You can add 1/4" or 1/2" depending if you want it to fit more loose.
For a more detailed description, please visit our Size Guide.
Need a custom size? Just contact us before you place your order!
One of the many reasons we love gold-filled jewelry is that it is low maintenance, however, you do need to properly take care of it for your pieces to last you forever.
STORAGE
We recommend storing your jewelry in our reusable pouches or jewelry box as exposing your pieces to oxygen and moisture may cause tarnishing.
CHEMICALS
All of our jewelry is sweat and water proof however, prolonged exposure to chemicals such as the pool, hot tub, personal care or cleaning products can damage the metals. We recommend removing your jewelry beforehand or cleaning them properly after use.
BODY CHEMISTRY
Everyone's body has different ph levels, and believe it or not, some skin types can cause jewelry to dull or tarnish faster than others.
HOW TO CLEAN YOUR JEWELRY
Make cleaning your jewelry part of your weekly self-care routine to keep your pieces looking shiny and new. If you notice they're dull or have been exposed to any chemicals, sweat, or saltwater, please follow these steps:
1. Dip your pieces in a bowl with warm water and a mild soap.
2. Let it sit for a few minutes.
3. Use a soft cloth or soft bristle toothbrush to get in the corners.
4. Rinse and pat dry.
Tip: Use a polishing cloth in-between cleanings to keep your jewelry extra shiny.
For more jewelry care tips, click here.
Free shipping on all U.S. orders $75 or more (no code required at checkout!).
All orders are processed within 5-7 business days, but there may be a delay if there is a high volume of orders since most of our pieces are handmade.
If for any reason you are unsatisfied with your order, please contact us.